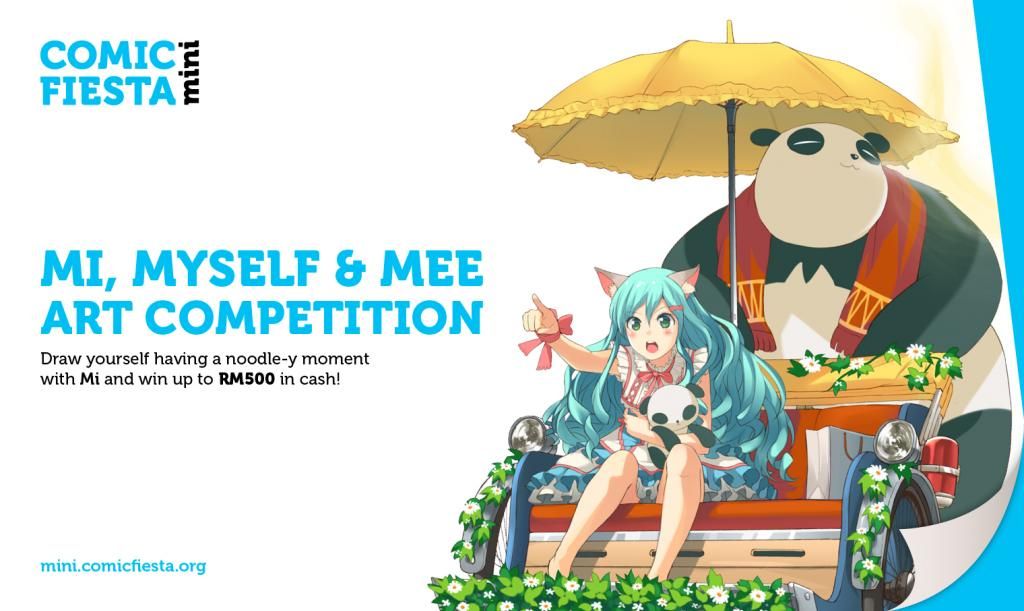 "Mi, Myself and Mee" Art Competition
Introduction
Comic Fiesta Mini is back in Penang again this year with support from Penang Tourism! In conjunction with our second event in the food capital of Malaysia, we are proud to hold an art competition featuring the exclusive mascot for Comic Fiesta Mini – Mi!
Your mission, should you choose to accept it, is to draw an illustration of yourself and Mi (our mascot) with noodles; it can be anything from eating Penang Curry Laksa, or cooking Hokkien Mee~ You can be preparing Char Keay Teow with Mi, or simply have you fascinated by a bowl of sparkling Prawn Noodles!
Show us an illustration of the fun time you're having with Mi, and you'll be in the running to win the grand prize of RM500!
Prizes
Ten (10) finalists* will be chosen, where three (3) best will receive the following cash prizes:
1x Grand Prize

– RM500

1x First Runner-Up – RM300

1x Second Runner-Up – RM200
Finalists
The following are our top ten (10) finalists:
Low Li Yee (Lolipop)
Lim Zhi Sheng (Adrian)
Goo Ching Rou (tokki)
Koay Han Ying (Han Ying)
Lorna Tan Lee Siew (Rona67)
Sua Jin Hung (MiSua)
Tan Choon Pham (Monjimiya Yae)
Ameer Fuhaili Bin Mohamad Hashim (Ameer)
Tan Yoke Cheng (Leonn)
Siti Nurul Atikah Binti Nazaruddin (Atikah Naomi)
You'll be receiving an email from us soon! =D
*All finalists will receive a Comic Fiesta 2014 Captain's Pack.
References and Profile
Spoiler
Rules & Regulations
Spoiler
Artwork Guidelines
Spoiler
Finalists will be announced on the 21st September, 2014 (Monday)
Prize Giving will be on 28th September, 2014 (Sunday), 6.30pm.