S.O.X. Fantasy Fest Cosplay Competition Basic Details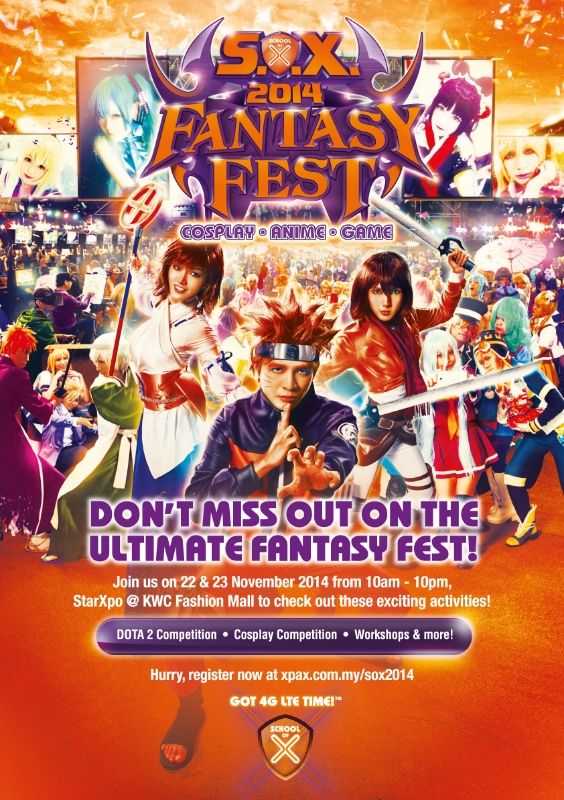 Dress the part. Be the character. Join the Solo, Group or Fan Costume Category now and take the spotlight! Top 5 cosplayers for Solo and Group Category from each regional fest will go on to compete in the finale too! Selection will be based on costume details and how well you act out the personality of your favourite fantasy character.
Register now to participate! Be sure to download, fill in the indemnity form below and submit it to us at the regional fest. Also check out the rules and regulations for more info!
*Changelog: SOLO stage time has been increased from 1 minute each contestant to 3 minutes each.
FINALE
Event Dates & Venues:
Kenanga Wholesale City - 22nd/23rd November, 2014
There are three (3) catergories for this event.
Solo
Spoiler
Group
Open
Pre-Registration Submission Deadline*: 20th November 2014
*On-site registration will be allowed if slots are still available
Additional Notes:
- Regional winners will be awarded 10pts bonus for their past participation.
- Registration forms for the public will be open from 12th Nov - 20th Nov.
- Any cosplayer that wishes to use an audio track will be preferred to submit it in advance for pre-screening to avoid last-minute rejections.
- Any additional requests (mics, chairs, tables) will have to be confirmed upon registration.
- SOLO contestants may request to have a maximum of ONE (1) other contestant to assist with their stage time. However, this MUST be requested in advance and informed upon registration. (In this case, each contestant will be judged individually.)
- Registration for the OPEN category will only be open for on-site registration.
- For any questions or inquiries, kindly drop an email to our partner at cosplay@comicfiesta.org
For more detailed R&Rs: click here*
*due to a change in format, kindly refer to this post for further updates with regards to the competition instead.
For indemnity form: click here
For registration forms: click here