Introduction
Slots Closed!!!
CF 2011 100 days countdown is up and running!For those who are new, 100 Days Countdown is a yearly event since 2008, where hundreds of artists pool their talent each year to count down to the most epic event of the year, Comic Fiesta!Here are the Guidelines to follow:
Countdown Guidelines
You can book your slot from the schedule below.
There'll be a maximum of 2 slots for per day and 2 slot per person.
Email us your weekly slot and email/details for further confirmation. (Please do not use PM for booking)
Remember that you have committed to contribute art for a particular week you have signed up for.
No reminders will be given, and if you don't submit in time, you won't see your artwork being picked to be posted in our website.
EMAIL your booking/submission to cf.100dayscountdown@gmail.com when you're done.
Artwork Guidelines
Art submitted must be related or relate to Comic Fiesta and done by you. (Uses of the mascots, Coffy and Tea preferred)
Artwork must be in this format:

Size: A4 (2480px X 3508px // 21cm X 29.7cm // landscape or portrait)
Resolution: 300dpi
File Format: JPEG file - full quality save. (12)

Please send in your following details when submitting your artwork. Only your Alias/Nickname and Personal Site will appear in public, other personal details are strictly for contact purposes only (edited 12/8, for additional details): i) Full Name (Follow NRIC/Passport)ii) Alias/Nickname (Work will be credited with this name)iii) Ageiv) Genderv) Emailvi) Website or gallery, such as Deviantart and Pixiv Account (Optional)vii) Mobile Contact Number
Foul Language, Hentai, Yaoi, and Yuri are NOT allowed.
Comments/words can be placed within artwork.
Keep in mind your artwork will be posted in a public website, so respect your art and yourself.
In return, please provide us details regarding your art site or online contacts, so we can help spread your fame. All credits goes to the artist.
Please hand in submissions ONE WEEK before your weekly slot is due.
Artworks not meeting the requirements above will be rejected and our decision is final.
Artworks submitted will be part of the media for CF; We're allowed to use the artwork as our promotional materials and projects, such as the CF Artbook. (edited 13/8 for clarification)
We may reallocate your artwork to another day if there are no artworks submitted in time for that specific date.
If you have difficulties thinking what/how to draw you may refer to the artwork samples from this site:
http://100days.comicfiesta.org/* May it inspire you some ideas! XD
Mascots Profiles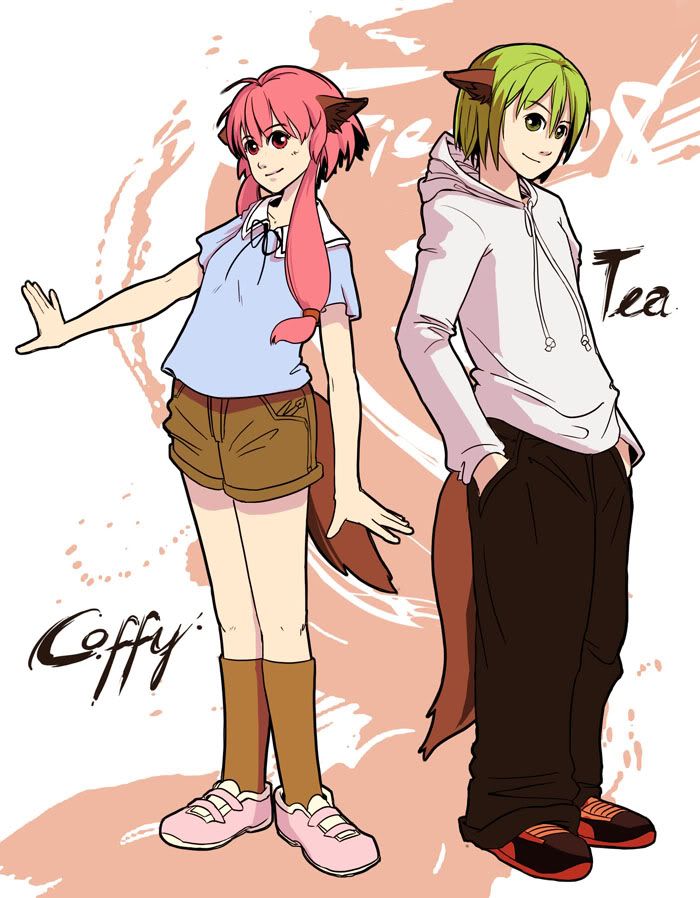 Coffy
Siblings:Tea, her younger brotherOccupation:Artist/DoujinkaAccessories:- Uses her pens as weapons- Carries a golden fan with the CF rules hidden in it. Liable to use fan with no warning if rule-breaking is detectedPersonality and Quirks:- OCD against art thefts- Sloppy and messy- DO NOT FEED COFFEE. Will go into Beserk: Drawing Mode.- Slightly denseLikes/Dislikes:- Likes singing. Get the umbrellas ready when she does.- Loves collaborations- Dislikes Ying Yong (annoying bug!)
Tea
Siblings:Coffy (elder sister) - Tea believes something went wrong somewhere, as he's far more responsible than she isOccupation:CosplayerAccessories- Fried Chicken Drumstick- Toy Chicken Drumstick as CF doesn't allow food and his sister would kill him with her Golden Harisen if he brought one in.- Toy Drumstick to attack Yin YongPersonality and Quirks- Overprotective of his sister- Is a constant Spazzer- Taller than Coffy- Becomes egotistical in the presence of Yin Yong- Mistreats Yin Yong whenever he can; has been scolded by Coffy for that- OCD on details (especially cosplay) AND cleanliness- Looks far younger than his maturity levelLikes/Dislikes- Chicken- Dislikes Yin Yong; would attack if given chance.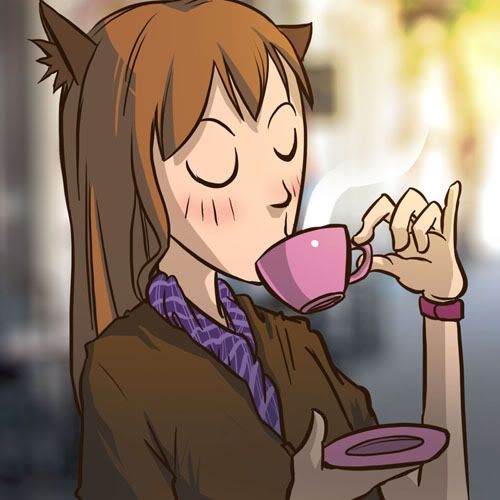 Yin Yong
Siblings:NoneOccupationCrossplayerAccessories- Shoujo sparkles and flowers- Any purple item- Regenerating Magical Camera Phone Sleeves!Personality and Quirks- Can sing, but overdoes the performance and turns people off- Breaks rules without meaning to- Has no concept of personal space... hence why Coffy needs a metal harisen with him instead of a paper one- Big ego, but bigger heart. Narcisstic.- Tends to appear in a shower of sparkles- Lame jokes. Also tends to be bullied.- Overly forward and has no concept of personal space. Tends to get into people's face (just ask Coffy!)Likes and dislikes- In love with Coffy.- Hates her brother Tea- Loves long coats and sleeves. Doesn't seem affected by the Malaysian weather- Loves Camera Phones. Has endless supply up his sleeves? Well somewhere at least. Security is still trying to figure that one out.Appearance:- Tall and lithe- Has waist-long brown hair, the colour of milk coffee when not in costume- Hair sways gently in the wind... even when there is no wind.- Big grin with compulsory corner shiny teeth- Something purple on him----------
Just Email your desired slot to cf.100dayscountdown@gmail.com with the date(s) you want to contribute for, eg. "sept 8 / day 100" along with your name, email and extra details (such as your website!). Do not PM your submissions. Please EMAIL the submissions when you are done; this is to ensure we've received your art and a reply mail will be sent. ** NOTE **Registration for the 100 Days Countdown will close on SEPTEMBER 6 2011! So hurry and pick your slot as it's on a first come first serve basis.
---------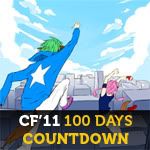 Timetable
[week 1]
Sept 08 / Day 100 -- nerv / Lazendar / EnsuMasSept 09 / Day 99 -- Sachi 沈怪兽 / Azure Chen / kaz Sept 10 / Day 98 -- Hikari / Scull / Kiraneko
[week 2]
Sept 11 / Day 97 -- Clowx / doneplay / ARMsIgnitionSept 12 / Day 96 -- aya / Fredlina / Yohkobean 叶子豆Sept 13 / Day 95 -- ZENO ゼノ / darkn2ght / Ryoku26Sept 14 / Day 94 -- Yana / mikki / Chuah Poh YunSept 15 / Day 93 -- chiwayu / Lim Pee Yee / NekoxPandaSept 16 / Day 92 -- Vinca / ZENO ゼノ x Sinms / oxygZenSept 17 / Day 91 -- fei-ma / Ng Sueh Yi (CROSS) / Kuehsy 懸之越映
[week 3]
Sept 18 / Day 90 -- yeechong / Estheryu / SylphinaEdenhartSept 19 / Day 89 -- Aikochibi / KhunIX / yeechongSept 20 / Day 88 -- Michiika / Ashel / AlexenSept 21 / Day 87 -- Samu / Neuro / Iufi Sept 22 / Day 86 -- niekaori / freezingfeathers / AmethystSept 23 / Day 85 -- ailee81 / freezingfeathers / MieHanz Sept 24 / Day 84 -- Sai Sora / Little / boonishfull
[week 4]
Sept 25 / Day 83 -- Roxan Trinity / Obliro / VertigoKellySept 26 / Day 82 -- niku-niku / mao00mao @ 鬼猫 / kemy Sept 27 / Day 81 -- yuniedante / LEO23 / Lochris Sept 28 / Day 80 -- Psssking / Yohkobean 叶子豆/ ArmSept 29 / Day 79 -- AKira_yuu / LWY / RaiSept 30 / Day 78 -- Elle / Vendelyne/ jenreaOct 01 / Day 77 -- Kuro / Book Town / 海@Kairu
[week 5]
Oct 02 / Day 76 -- Yurkary 素羽 / Ah Fish Cheng / sinmsOct 03 / Day 75 -- Osamau 八葉草 / denicsua / 白羊Oct 04 / Day 74 -- Kuehsy 懸之越映 / AlswCatlover / Nami-miOct 05 / Day 73 -- Hatsune midori / Johnny Ong / MarchOct 06 / Day 72 -- 小满 / Yuan3 / Nilla-laOct 07 / Day 71 -- KAIE / kou / 康門Oct 08 / Day 70 -- Natsupi / sk-y yong / Akasumi
[week 6]
Oct 09 / Day 69 -- fishball / AYA / JsilverOct 10 / Day 68 -- Rize / Wen / ManManTanOct 11 / Day 67 -- Arisu / Yoshiki Tsubasa / Akane ChiakiOct 12 / Day 66 -- Yoshiki Tsubasa / yuuhi / KEIRU YUUOct 13 / Day 65 -- sairu9 / Herius / KEIRU JOct 14 / Day 64 -- yuuhi / s7eventan / 炸蘑菇Oct 15 / Day 63 -- angie / naznaz / Kaxy Chin
[week 7]
Oct 16 / Day 62 -- Chocosweet rainny / Darkson / NadOct 17 / Day 61 -- Chocosweet rainny / mikki / Silvester ChanOct 18 / Day 60 -- yuuzu柚子 / Arisu / Koy LiangOct 19 / Day 59 -- Yana / Skylewolf / AerukoOct 20 / Day 58 -- Halloween@鱼咩 / HYU@魚頭人 / KinoOct 21 / Day 57 -- Rine / Eden / Tachi TakaOct 22 / Day 56 -- HYU@魚頭人 / Hope / Skylewolf
[week 8]
Oct 23 / Day 55 -- fei-ma / ally / Tsubasa W. HiluxOct 24 / Day 54 -- Xsaye / KhunIX / des-troyOct 25 / Day 53 -- Dreamwalker / Dreamwalker / Akino SakuraOct 26 / Day 52 -- OT / mao00mao @ 鬼猫 / Nad Oct 27 / Day 51 -- Edo / LWY / Akino SakuraOct 28 / Day 50 -- cherubchan / Uzuki / st00pzOct 29 / Day 49 -- Rave / Engraver / krrow
[week 9]
Oct 30 / Day 48 -- zfoo / Abunai Usagi / RiiyaOct 31 / Day 47 -- Akane Yueyuki / Wish / MegameNov 01 / Day 46 -- Abunai Usagi / JL / ireneNov 02 / Day 45 -- Zeenyx / Emi / Scull Nov 03 / Day 44 -- Lazendar / whiteclover1603 / krrowNov 04 / Day 43 -- Layna / Konifia / WeiyoNov 05 / Day 42 -- NekoFruit / Lim Pee Yee / allbuffeatmeat
[week 10]
Nov 06 / Day 41 -- Ryoku26 / Yui 瀰潾 / 宅王(OTK king)Nov 07 / Day 40 -- Julian Rahmat / Chikoness / HoryuuNov 08 / Day 39 -- shikio / CIA / Silver WingNov 09 / Day 38 -- chilicandy / Animetor_Lily / NecoNov 10 / Day 37 -- PT / Lochris / KAORUNov 11 / Day 36 -- Mycarlao / Staccato / IvonNov 12 / Day 35 -- KAIE / yuuzu柚子 / Tuno-kid
[week 11]
Nov 13 / Day 34 -- PT / vanilla tea-er / KPK Nov 14 / Day 33 -- Elle / Uruhara / tsusuchan Nov 15 / Day 32 -- maruuu / Raethes / MaayaNov 16 / Day 31 -- L_s 某雷 / Myra Sofea / hikariyueNov 17 / Day 30 -- Ili / lucis / kumocopperNov 18 / Day 29 -- megumi / Fenix / ilunaNov 19 / Day 28 -- lowies chew / Yuriniwa / phenolphthalein
[week 12]
Nov 20 / Day 27 -- HiRo Tan / lowies chew / 戈画萌布朗Nov 21 / Day 26 -- Khairie / HIKARA / ChoongMay Nov 22 / Day 25 -- Rave / cottonwings / st00pzNov 23 / Day 24 -- Jatearica / Wish / XsayeNov 24 / Day 23 -- kou / Realm / 大敏CarmenNov 25 / Day 22 -- MizuiroNeko / Sachi 沈怪兽 / 煮饭仔Nov 26 / Day 21 -- Rairy / Hisaru / Kaxy Chin
[week 13]
Nov 27 / Day 20 -- RinSakura / ifa / 大敏CarmenNov 28 / Day 19 -- Shixie / Low Soon Yie / Crimson SenaNov 29 / Day 18 -- Michiika / Hope / AishaNov 30 / Day 17 -- REManiac / Shin8ix / kemyDec 01 / Day 16 -- Carrie / ximulo / VincaDec 02 / Day 15 -- Wina / ximulo / HikariMiyukiDec 03 / Day 14 -- doneplay / Yuriniwa / annachuu
[week 14]
Dec 04 / Day 13 -- AesthRuka / Azunatsu /annachuuDec 05 / Day 12 -- izzyannie/ Juin Kadsuki / hikariyueDec 06 / Day 11 -- Iluna / Azunatsu / Rai
Dec 07 / Day 10 -- Guest ArtistDec 08 / Day 9 -- Guest ArtistDec 09 / Day 8 -- Guest ArtistDec 10 / Day 7 -- Guest Artist
[week 15]
Dec 11 / Day 6 -- Guest ArtistDec 12 / Day 5 -- Guest ArtistDec 13 / Day 4 -- Guest ArtistDec 14 / Day 3 -- Guest ArtistDec 15 / Day 2 -- Guest ArtistDec 16 / Day 1 -- Guest Artist
**NOTE :
The last 10 slots will be reserved for guest artist as. =D :
Green = Available
:
Red = Not Available