To celebrate the 10th anniversary, reaching the "over 9000!" mark and becoming one of Malaysia's most epic events last year, Comic Fiesta @ SAYS Youth Society is going to release a
Comic Fiesta Artbook!
It'll be our proud milestone, representing all Comic Fiesta has been about for the past 10 years, as well as featuring artworks of our much-loved CF mascots
Coffy & Tea!
With that said, we're now calling in submissions for those who are interested to be part of this exciting project.Due to the limited amount of artworks that can be included in the book, we'll only be choosing a limited amount of entries from the submissions we receive. Those with their entries chosen will be given
1 FREE COPY
of the Artbook as token of appreciation.
No worries for those of you whose artwork doesn't get chosen for the Artbook; we'll also be displaying everyone's efforts on our event day! =)
Artists whose entries are accepted will receive their free copy of the Artbook on the event day itself; 17th Dec & 18th Dec.Entry is simple! Just submit your artwork attached in the same email (cf.illustration@gmail.com ) to us by
11.59pm(GMT+8), 25th October 2011.
General Rules
This CF Artbook Submission (here on referred to as "the Artbook") will be held through online submissions only.
Participants need to be at least 12 years old to join in this thrill.
ALL submissions for 100-Days gallery(include past year's submissions) will automatically be considered for CF's artbook. Resubmission is not required. The artists of chosen works will be contacted through email by October. Should your 100 Days slot be later than October 25, please send in your submission earlier than the cut-off date to be considered for the artbook.
Submissions will be chosen based on concept, creativity, and quality of work.
Submissions that contain vulgarities and/or obscenities are not accepted.
Committees' decisions are final. Complaints will not be entertained.
Comic Fiesta reserves the right to change the terms and/or conditions for the submissions at our discretion without any prior notice.
Mascots Profiles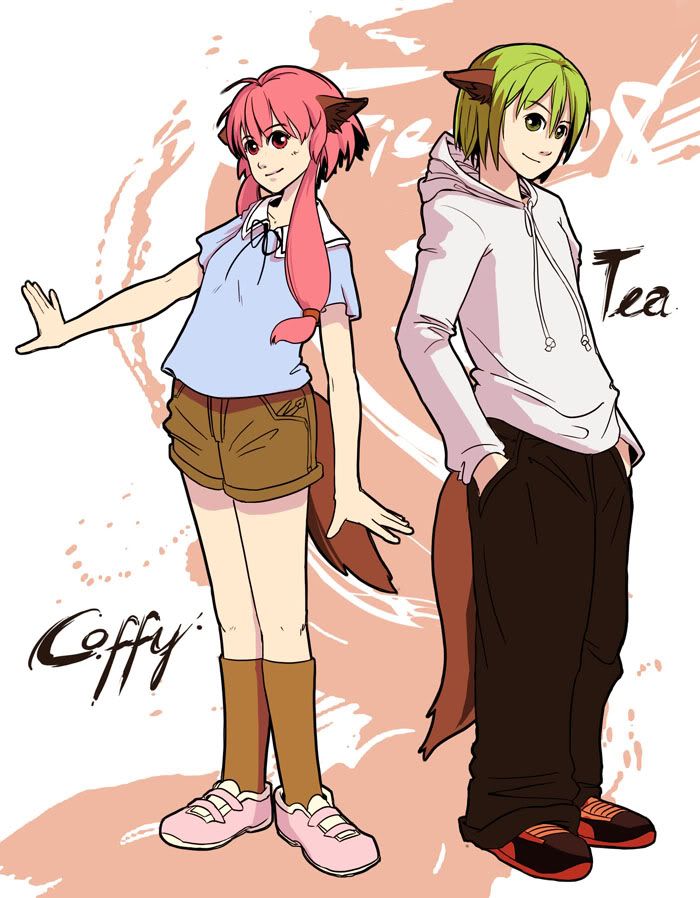 Coffy
Siblings:Tea, her younger brotherOccupation:Artist/DoujinkaAccessories:- Uses her pens as weapons- Carries a golden fan with the CF rules hidden in it. Liable to use fan with no warning if rule-breaking is detectedPersonality and Quirks:- OCD against art thefts- Sloppy and messy- DO NOT FEED COFFEE. Will go into Beserk: Drawing Mode.- Slightly denseLikes/Dislikes:- Likes singing. Get the umbrellas ready when she does.- Loves collaborations- Dislikes Ying Yong (annoying bug!)
Tea
Siblings:Coffy (elder sister) - Tea believes something went wrong somewhere, as he's far more responsible than she isOccupation:CosplayerAccessories- Fried Chicken Drumstick- Toy Chicken Drumstick as CF doesn't allow food and his sister would kill him with her Golden Harisen if he brought one in.- Toy Drumstick to attack Yin YongPersonality and Quirks- Overprotective of his sister- Is a constant Spazzer- Taller than Coffy- Becomes egotistical in the presence of Yin Yong- Mistreats Yin Yong whenever he can; has been scolded by Coffy for that- OCD on details (especially cosplay) AND cleanliness- Looks far younger than his maturity levelLikes/Dislikes- Chicken- Dislikes Yin Yong; would attack if given chance.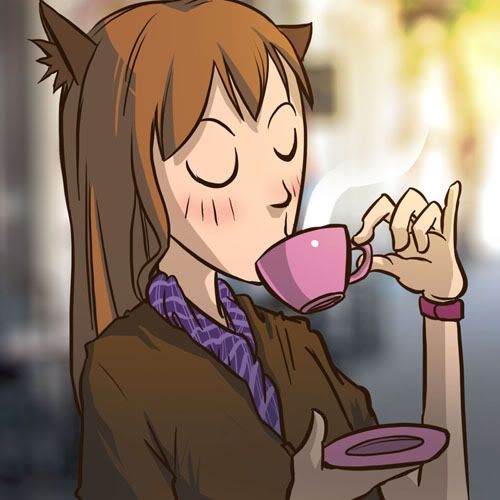 Yin Yong
Siblings:NoneOccupationCrossplayerAccessories- Shoujo sparkles and flowers- Any purple item- Regenerating Magical Camera Phone Sleeves!Personality and Quirks- Can sing, but overdoes the performance and turns people off- Breaks rules without meaning to- Has no concept of personal space... hence why Coffy needs a metal harisen with him instead of a paper one- Big ego, but bigger heart. Narcisstic.- Tends to appear in a shower of sparkles- Lame jokes. Also tends to be bullied.- Overly forward and has no concept of personal space. Tends to get into people's face (just ask Coffy!)Likes and dislikes- In love with Coffy.- Hates her brother Tea- Loves long coats and sleeves. Doesn't seem affected by the Malaysian weather- Loves Camera Phones. Has endless supply up his sleeves? Well somewhere at least. Security is still trying to figure that one out.Appearance:- Tall and lithe- Has waist-long brown hair, the colour of milk coffee when not in costume- Hair sways gently in the wind... even when there is no wind.- Big grin with compulsory corner shiny teeth- Something purple on him
Artwork Terms & Conditions
1. ALL artworks must comply with the following format:
Size: A4 (29.7cm x 21cm)

(*edited on 14/8)

Resolution: 300dpi
File Formats: JPEG file - full quality save. (12)
2. Please send in your following details. Only your Alias/Nickname and Personal Site will appear in public, other personal details are strictly for contact purposes only:
Full Name (Follow NRIC/Passport)
Alias/Nickname (Work will be credited with this name)
Age
Gender
Email
Website or gallery, such as Deviantart and Pixiv Account (Optional)
Mobile Contact Number
3. Digital OR Traditional mediums are both accepted. You will still have to digitize it however to send via email.4. All Artworks should be in colour; B&W are only accepted in exceptional cases.5. Contributors are encouraged to adapt any style of drawing they please.6. Any submissions received after the deadline will not be accepted.7. Submissions must feature at least one of our mascots (Coffy, Tea and/or our secret sidekick mascot) in it. Otherwise, the theme is up to you.8. Any and all artworks submitted will be considered a contribution to CF's library and may be used for promotional purposes without prior notice.9. Be as creative and mind-numbingly detailed as you can, but don't forget to have fun!10. Send your submission via email together with your details to: cf.illustration@gmail.com with the subject header, "CF11 Artbook Submission" with your details mention above.