Crazy Awesome Bracket Prediction Contest - Bracket Entries
There is no entry form. Simply Post your prediction entries here and you'll be in the prediction contest!.If you've never read the R&Rs,
here they are... *link*
Sample of a Completed Bracket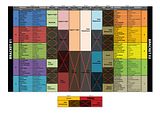 An empty version of the brackets
can be found here
.In the interest to keep this thread as clean as possible,
please ask any questions you may have in this thread
! This thread is for
BRACKET PREDICTIONS ONLY
[spoiler=
Forumers Whose Brackets Are the Running& Their Points:
]
Green: Not Eligible
Blue: Lifeline Unused
Red: Lifeline Used
-
BmJ (4+3+0+0+0 = 7pts)
-
Silencers (0+5+3+0+1 = 9pts; first round negated)
-
ahliang141 (3+5+3+0+2+1 = 14pts)
-
number304 (5+7+3+2+1+3 = 21pts)
-
shiroiakaru (2+3+1+1+0 = 7pts)
-
sakuradesune (6+4+3+4+2+3 = 22pts)
-
SugarGal (0+6+2+0+2 = 10pts; first round negated)
-
satan666 (0+3+2+1+2 = 8pts; first round negated)
-
armoredguy (0+5+0+0+0 = 5pts; first round negated)
[/spoiler]
Congratulations

SAKURADESUNE!!!
You've won yourself RM200!