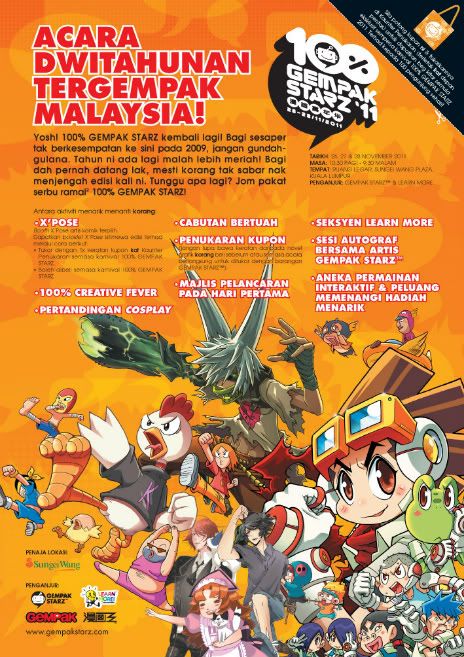 In conjunction with 100% Gempak Starz event coming in November, Comic Fiesta @ SAYS Youth Society will be helping to organize a cosplay competition in Sungai Wang!Here's the basic details:
Date:
26th November 2011
Venue:
Main Concourse, Sungai Wang, Kuala Lumpur
Format:
Singles
Time:
Preliminaries - 1.00pm-2.00pmFinals - 3.00pm-5.00pm
Cash Prizes:
Grand Prize - RM1000
1st Runner Up - RM500
2nd Runner Up - RM300
Consolation x2 - RM100ea
The registration pack can be downloaded
HERE!
++++++++++++++++++++++++++++++++++++++++[spoiler=
Gempak Cosplay Competition Registration
]1. The Gempak Cosplay Competition (hence GCC) is open to participation for all humans. If you're a paramecium, we're sorry, you can't join.2. The GCC will be held on the
26th of November 2011
.
Preliminaries
will be between
1.00pm-2.00pm
, where the
Finals
will be at
3.00pm-5.00pm
.3. Registration for the competition is open for
both pre
- and
on-site registrations
. There are
20 slots
available to be given at a first-come-first-serve basis.4. To participate, contestants are required to fill in [this form] completely and provide references to the characters design (preferably in color) and
check in at the our booth in the event by 12.15pm
.5. Forms can be submitted either digitally by emailing
cosplay@comicfiesta.org by the 23rd of November
, or
printed and handed on-site (with references) on the 26th of November
.6. Participants are kindly reminded that equipment requests are subject to availability. While we will definitely try our darndest to get you your stuff, we cannot guarantee it will be available. 7. As usual, by registering for the competition, all contestants agree to have read and accepted both the rules and regulations for the competition and
all general guidelines
provided by the event organizer.8. That said, the event organizers reserve the right to disqualify any contestant that fails to adhere to any of the rules and regulations.9. The event organizers further reserve the right to amend the rules and regulations at their own discretion. Any prior notification given will be at their discretion as well.[/spoiler][spoiler=
Gempak Cosplay Competition Competition Format
]1. The GCC is available for
Single
registrations only.2. For Preliminary Round, each contestant will be called up on stage one by one and given a microphone and a 30-second slot to introduce themselves
IN CHARACTER
before striking a pose.
(e.g. If you're cosplaying Goku, you tell people that you're from "Planet Vegeta" and not, for instance, "Kepong")
3. All the contestants will then be called up on stage where
ten (10)
finalists will be selected to proceed to the Final Round.4. The Finalists will then be given a theme at random where they will need to prepare a short 5-minute skit based on that theme.5. Finalists will be allowed up to a total of two helpers onstage.6. Winners will be chosen based on the following criteria:
Character Portrayal (how well the character's personality is adhered to, parodied or, in the case of mascots or MMO characters, created)
Costume (how accurate the presentation is to the character's, well erm... character)
Creativity (how outstanding the approach might be)
Showmanship (how entertaining is the performance)
7. Logistical assistance (microphones, chairs, tables) can be provided but advance notification will be required upon submitting your registration forms. Kindly understand that this assistance will also be subject to availability and will be confirmed upon check in.[/spoiler]Standard Cosplay Guidelines apply as well.
Please click this link to check out the full wall of text
.