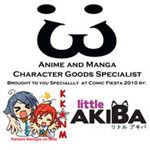 :3 by KARESHI KANOJYO NO MISE & LITTLEAKIBA
littleAKIBA, together with the renowned Kareshi Kanojyo no Mise (KKnM) from Singapore will be setting up booth right here at Comic Fiesta 2010! Offering a wide range of Character Goods & Merchandises, be sure the check out the many items they have on sale.Also, if you missed the Kadokawa World Tour items and Naruto COSPA ASIA items at Anime Festival Asia, you will have one more chance to grab these exclusive T-shirts at Comic Fiesta!
Figurine Marketplace
For the first time at an event, The Figure Mall (TFM) will be organizing a Figurine Marketplace! If you're looking for rare, out-of-production figurines, you might just find someone selling them at the TFM booth.If you're looking forward to selling some of yours there, just drop by the booth and contact any of the staff there for more details.
Figurine Showcase
Once again, members of The Figure Mall will proudly set up and display their collections at Comic Fiesta 2010. Come view the huge collection of Nendoroids & Nendoroid Puchis by some of the biggest Nendoroid collectors in the community. Also look forward to a collection of figures from Black Rock Shooter, Touhou Project & more! As usual, never leave your cameras at home~