Coffy Creative Challenge
sponsored by
Saito College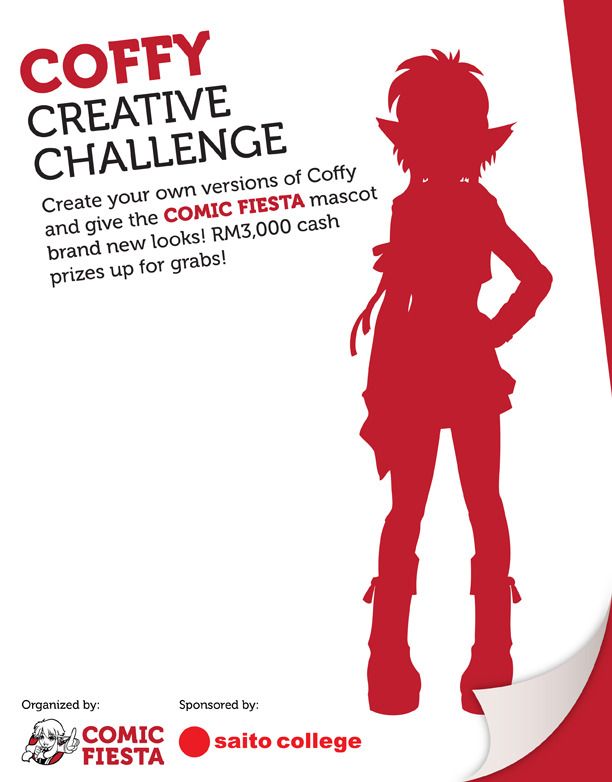 Prizes
1x Grand Prize
RM1,000
4x Prize
RM500
Introduction
It's about time that we give Coffy, our main mascot, a new look! Comic Fiesta,
with the support from
Saito College
, are
proud to hold a character design competition for our mascots (well, mascot that is) for the first time ever!
Your mission, should you choose to accept it, is
to redesign Coffy, with a theme based on a specific type of coffee (Coffy)! e.g.
Latte, Macchiato, Espresso, Double Espresso, etc
. (For your inspiration, here's Wiki's full list of Coffee Beverages ;D) Interpret your chosen beverage and reflect its uniqueness in your design in the form of BOTH her costume and personality~! (e.g iced coffee may be Coffy in winter costume!)
The winning design will be the official costume for Coffy this year and if your design is the one selected you stand to win RM1000 in prizes! Not only that, four other
winning designs will be selected and each stand to win
RM500
worth of consolation prizes!
XD
Here are the Guidelines to follow:
Guidelines
1.
There are no age/race/nationality limits to participation.
2. Designs must be themed based on a specific coffee (Coffy), e.g.
Latte, Macchiato, Espresso, Double Espresso, etc
. (For your inspiration, here's Wiki's full list of Coffee Beverages ;D)
3. Character designs must be
SFW
(safe for work). Neither birthday suits NOR tattoos (alone) are considered "costumes", and though
arguable in terms of "character", does not fulfill the entire needs of this competition.
4. Participants may send in more than one submission, but only one will be considered for the final prize.
5. Submissions must be sent in by
12am (+8.00GMT), 23rd of November 2012
. Any submissions sent after that will be promptly ignored.
6. The results will be announced by end of November.
7. The judges decisions are final. Complaints may be entertained but will be done so at the individual judge's prerogative and will have no effect
on the results.
8. The CFOC (Comic Fiesta Organizing Committee) reserve the right to amend/change these R&Rs at their own discretion without prior
notification.
9. The CFOC reserves the rights to use any winning designs and its likeness for its promotional and commercial purposes.
10. EMAIL your submissions to
cf
.
illustration
@
gmail
.
com
with the subject title "CF12 Coffy Creative Challenge" when you are done.
11. Alternately, you can also post/mail your entries to the following address...
SAYS Youth Society
47, Jalan SS17/3B
47500 Subang Jaya
Selangor Darul Ehsan
Artwork Guidelines
1. Submissions must be related or relate to Comic Fiesta and done by you. (MUST contain artwork of Coffy)
2. Submissions may be done by analog/tradition methods or digitally.
3. All submissions sent in digitally must be in the following format:
Size: A4 (2480px X 3508px // 21cm X 29.7cm // landscape or portrait)
Resolution: 300dpi
File Format: JPEG file - full quality save. (12)
File Naming: Please name your file in accordance to this format for easier filing:

CF12Creative Challenge_NameofContestant_Nickname.JPG/PSD/TIFF
4. ALL submissions, both emailed and posted, must include:
Three coloured views of ONE costume design: Front, Back and an Action/Character Pose. Background is not necessary.

A write-up detailing the concept/personality/story behind the design (including the name of the coffee the design is inspired

from).

Artists details (name, nickname/alias, email, homepage).
5. Foul Language, Hentai, Yaoi, and Yuri are NOT allowed.
6. Comments/words can be placed within artwork.
7. All due credits of any design(s) used be given to the individual artist(s).
8. Artworks not meeting the requirements above will be rejected.
9. If you have difficulties thinking what/how to draw you may refer to the artwork samples from this site:
http://comicfiesta.org/mascots/
Winners will be announced on 23rd December 2012 (Sunday) and the prize giving session will be held on stage at 6.30pm.