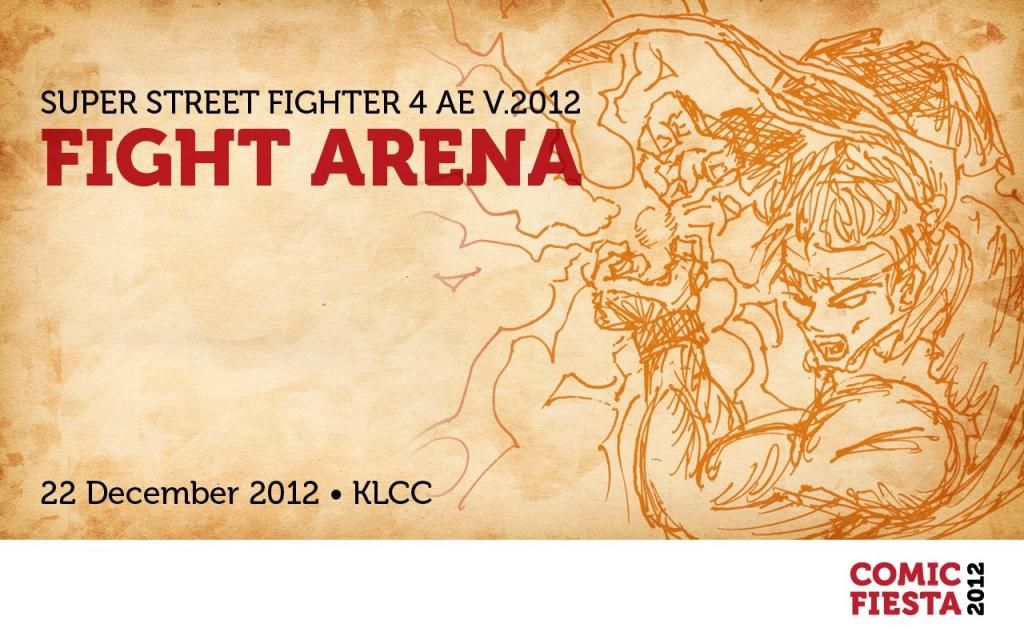 Hello CFers, i'm proud to announce a Super Street Fighter 4 AE v.2012 tournament is going to held at CF2012 this year. Tournament details as follows
IMPORTANT: You are required to buy the Entry ticket to Comic Fiesta 2012 from me latest by 16th of December thru bank-in at RM20 to confirm your registration. You will then go to the info counter on the tournament day between 9am-9.50am to report yourself and you'll be guided into the tournament area.
Banking details as below:
Bank: Maybank
Name: Kelvin Hii Beng Kian
Acc number: 112317122206

Once you bank in, please PM me your Reference Number and then i'll confirm your registration. Failure to do so will forfeit your participation. This does not apply to people who already bought the 2-days early bird tickets


Registration details at the bottom

Tournament Format :

1: The tournament will start off with pool stages for 48 registered players in 8 groups of 6 players. In pool stage each player will fight all of his/her opponents in their group in a best of 3 round best of 3 game match. The top 2 of each group will move on to Winners Bracket of the Double Elimination round, whereas the mid 2 will proceed to the Losers Bracket. The bottom 2 of each group will be eliminated

2. Quarter finals and onwards will be double elimination style, means each player has one chance to lose. If a player loses in the winners' bracket, he/she will be placed in the losers' bracket, and if they lose there its game over. Quarters and onwards will be played out in best of 3 rounds best of 3 games up till winners and losers finals. Grand finals will be played out in best of 3 round best of 5 games, player coming from losers bracket must win 2 sets to take the champion title.

3.A winner of a given game must stick to the same character for the next game with the same opponent. Only the loser of THE GAME (YOU JUST LOST IT) can counter pick with another character for the next game with the same opponent. The winner can however choose a different ultra if his opponent counter picks with a different character.

4.Blind pick is in effect and can be requested by either player before the start of a match. When a player chooses to blink pick, he/she and the opponent will whisper the character they'll be using to the marshall and the marshall will make sure both players uses the said character in their match. Point number 3 is in effect after the first game.

5. Games will be played out on PS3 systems. .At the beginning of a match, you are allowed TWO (2) minutes or 1 round to test buttons and configuration. The match will be restarted once both players are satisfied with the buttons and configurations or the TWO (2) minutes are up.


Rules and Regulations:

1.Both sticks and gamepad allowed.

2. Players will have to bring their own controllers and sticks

3. No shortcut mappings for sticks, means no PPP,KKK, Throw or Focus can be mapped to any of the buttons( arcade style ). Pads can map PPP or KKK but not Throw or Focus. If players are found guilty of breaking this rules, they'll be instantly disqualified.

4. Swearing, abusive language/gestures or unsportsmanlike behavior will not be tolerated. This includes deliberate distractions and disturbances to other players while a game is in progress.

5. Accidental presses of the PAUSE or HOME button will result in a warning by THE GAME (YOU JUST LOST IT) marshal. If the offence is repeated in a match, the match will be forfeited and the opponent awarded a win.




Schedule
DAY 1 (22nd Dec 2012)
9.00am-10.00am: Preparation and Registration
10.00am onwards : Pool stages up to Semis
6.30pm: Loser's finals and Grand Finals on main stage


Prizes(tentative, more would be added once sponsors confirm participation)
Champion: RM500 cash
1st runner up: RM300 cash
2nd runner up: RM200 cash





Details

To register please provide me your Full Name and your contact number through PM.Only 48 slots available.There is NO registration fees, but contestants must buy the entry ticket to Comic Fiesta itself .