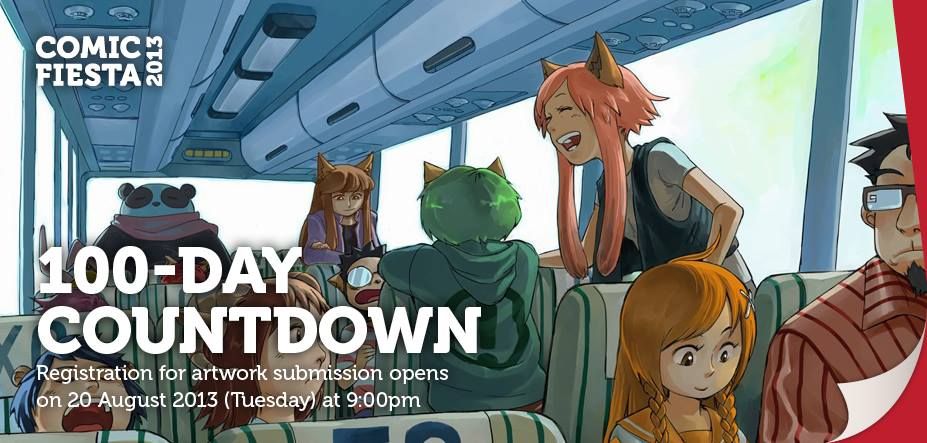 COMIC FIESTA 2013 100 DAYS COUNTDOWN

Calling all artists from across all worlds! Comic Fiesta 2013 100 Days Countdown is back on again~!

For those who are new, 100 Days Countdown is a yearly event since 2008, where hundreds of artists pool their talent each year, creating an artwork based on our mascots Coffy, Tea, Yin Yong, Michael and Mi to count down to the most epic event of the year, Comic Fiesta!

This year, Mirai Suenaga will be joining our line-up once again giving you a total of 6 Characters to choose from! It is a perfect chance for artists to flex their artistic muscles and showcase their skills to hundreds of thousands of people in one of the most highly-anticipated activities of the year~~

This year, our event's theme is RPG (Roleplaying Games, and, er,not Rocket-Propelled Grenades)! 20 Committee-Selected Artworks* will be receiving CF2013 Goodie Bags.
(*selection of artworks will be done at the discretion of the CF2013 Organizing Committee. We reserve the right to be completely random in our choices. =P)

Slots are full so forms won't be accessible. For those who still want to be part of the countdown, please look under Free Slots Guideline. Thank you!


Free Slots (FS) Guideline:
FS will be opened & announced when all the 270 slots are fully taken.
Registrations are not needed, just submit the artworks to cf.100dayscountdown@gmail.com.
Email subject/title:Countdown free slots submission
FS submissions are not allowed to insert numbers of any days into their artworks.
FS submissions will not be posted in any particular order.
All FS submission are legible for the CF 2013 Goodie Bags as well.
All FS submission have to meet the deadlines by batches as follows.
​​Batch 1 Deadline: 16th September 2013
Batch 2 Deadline: 14th October 2013
Batch 3 Deadline: 18th November 2013
Submission Guidelines
Art submitted must be related to Comic Fiesta and done by you. (Must use at least 1 of the following Comic Fiesta mascots; Coffy, Tea, Yinyong, Michael or Mi)
Making use of the event theme is not compulsory.
Artwork's format:
Size: A4 (2480px X 3508px // 21cm X 29.7cm // landscape or portrait)
Resolution: 300dpi
File Format: JPEG file - full quality save. (12)
File Title: Day*SlotNumber*By*ArtistName* (e.g. Day100ByNerv)
Please include your following details again when submitting your artwork. Only your Alias/Nickname and Personal Site will appear in public, other personal details are strictly for contact purposes only
i) Full Name (Follow NRIC/Passport)
ii) Alias/Nickname (Work will be credited with this name)
iii) Age
iv) Gender
v) Email
vi) Website or gallery (e.g. Deviantart, Pixiv Account, Blogspot) (Optional)
vii) Mobile Contact Number
Foul Language, Hentai, Yaoi, and Yuri are NOT allowed.
Comments/words can be placed within artwork.
Keep in mind your artwork will be posted in a public website, so respect your art and yourself.
Please hand in submissions ONE WEEK before your weekly slot is due.
Artworks not meeting the requirements above will be forfeited and our decision is final.

You give Comic Fiesta/ SAYS Youth Society full, non-exclusive rights to use your submission on materials published by SAYS Youth Society (you still retain full ownership of the artwork)

We may reallocate your artwork to another day if there are no artworks submitted in time for that specific date.
Countdown Guidelines:
You can book maximum 1 slot from the schedule below.
Only 3 slots per day from Day 100 until Day 11 are available for booking.
Book your slot from filling up this registration form : https://docs.google....D4EdWE/viewform
This is a first come, first-served basis.
If your desired slot date is fully taken, we will reallocate your slot to another closest date given.
Remember that you have committed to contribute art for a particular week you have signed up for.
No reminders will be given. If you don't submit in time, your artwork may not be posted in our website.
EMAIL your artworks to cf.100dayscountdown@gmail.com when you're done.
Email subject/title: Day*SlotNumber*By*ArtistName* (e.g. Day 100 by Nerv)
Please note that the schedule/list update might be slow which may be cause by overwhelming responses so please be patient.
Booking closes once slots are full.
Countdown Schedule
CHECK YOUR NAME and Slot HERE

Guest Artist
**Day 10 - Day 1 is reserved for guest artist.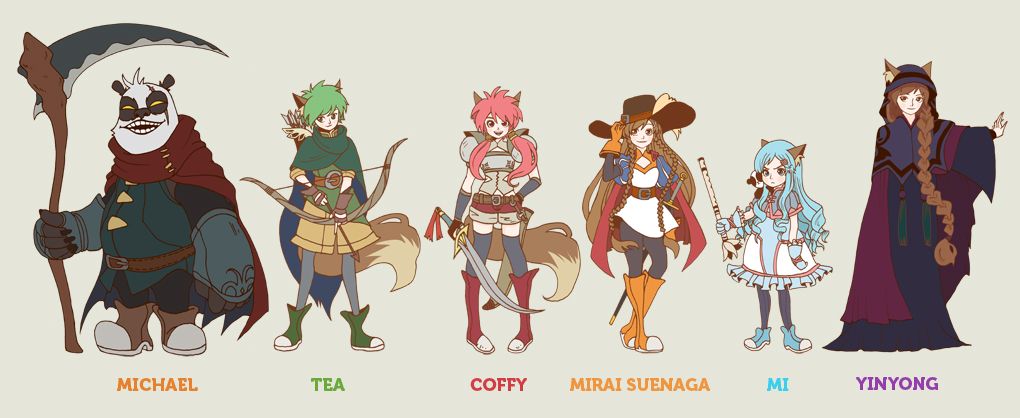 COMIC FIESTA MASCOTS
MIRAI SUENAGA
Here are some works which may inspire you.
https://www.facebook...85560531&type=3